Dogs Needing Homes

To get additional information about each of these Chinese Shar Pei, simply click on the picture, and it will take you to their own personal web page! There you will find additional pictures, when available, and information about them.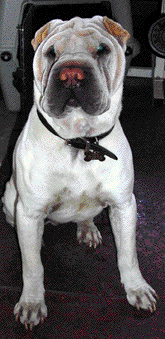 Rufus!!!!!!!!! ADOPTED!
Charlotte!!!!!!!!!!!!!!!
I WILL BE ADDING ADDITIONAL DOGS/PUPS AS SOON AS I GET MORE INFO ON THE OTHERS! PLEASE DON'T FORGET TO VIEW MY FAVORITE LINKS! THERE ARE SEVERAL GREAT RESCUE LINKS! PLEASE COME BACK OFTEN! THANKS! HOPE YOU ENJOY MY SITE!